When it comes to eCommerce websites, it's all about functionality, design, and the features of eCommerce platforms.
But what eCommerce features are most important for the success of your website, and which eCommerce platforms can best help you achieve your goals?
We'll answer that question in-depth on this page, reviewing different options. If you'd rather speak with an eCommerce specialist, you can reach us at 1-866-647-9218 or click the green "get a free quote" button at the top of your screen.
---
There are features you must have if you're running an online business and have an eCommerce website. In this article, we review some of the top eCommerce platforms and their features and include a full list of standard eCommerce features for all online stores and shopping cart platforms.
Many websites' success is determined by the products offered and how well the website is marketed, the features the website provides, and both the customer and the website owner. As a business owner, it is essential to have the tools to manage your website and that the administrative features fit with your business processes. For example, if you offer payment terms to your customer, you'll need to be sure the platform you're using gives you the ability to set a customer's credit limit. Before diving into an eCommerce project, think carefully about the eCommerce features needed, or you'll be regretting it later!
The Most Important eCommerce Features Your Website Needs Include:
Content management capabilities
Promotion & discount code tools
An easy-to-use checkout
SEO friendly code and layout
Advanced eCommerce SEO capabilities
Reporting tools & custom report features
An integrated blog or articles section
Email marketing features or integration
Multiple payment options (Credit card, PayPal, PO, Terms, etc.)
The ability to scale & add new eCommerce features
Let's dive in and take a look at the major eCommerce platforms and players.
---
Shopify eCommerce Features & Online Store Platform Overview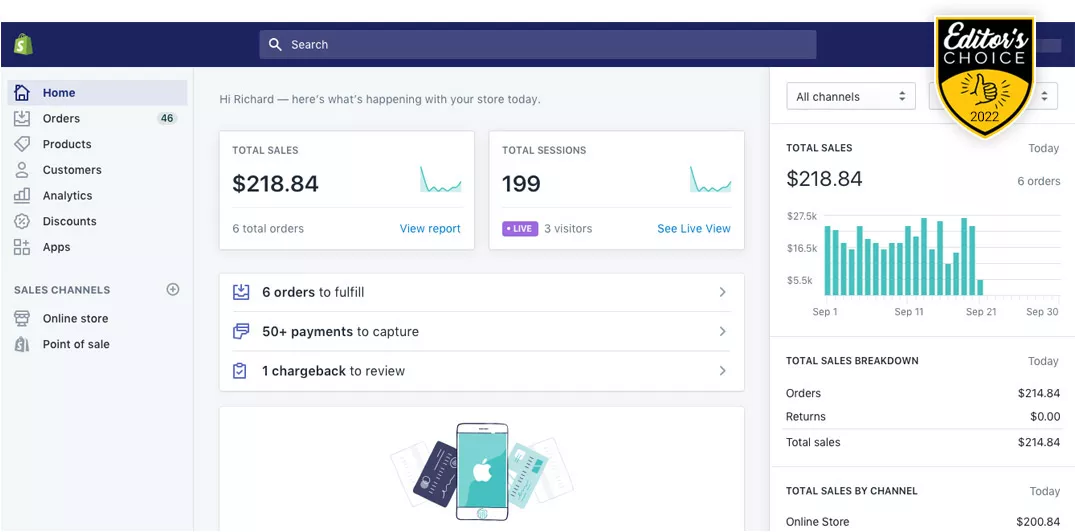 Overall, Shopify is easy to set up and celebrated for its "plug-and-play" capabilities. It's a visually appealing platform with many professionally designed templates available. There are also lots of app integrations to choose from for adding additional functionality. Shopify boasts above-average security and site speeds when built by an experienced Shopify developer with these things in mind. However, Shopify is still a templated solution, which means you are bound to the availability of templates and app integrations for design and functionality. It also is not the most SEO-friendly platform out there, but it's not terrible in this regard. Make sure to find an experienced Shopify SEO company that is familiar with the SEO features and limitations of the platform, and most of these problems can be mitigated.
Platform
Pros / Cons
Resources
Low Cost
Quick To Set Up
Low Maintenance
Now Customizable
SEO Can Be Tricky
Onveos eCommerce Website Features & Overview
If you're needing custom eCommerce features developed, Onveos is a perfect solution. Built with scalability as a top priority, Onveos is an ASP.net open-source platform that allows for complete customization. Often used for advanced data integrations, ERP integrations, and more, this platform will allow you to achieve what might not be possible with one of the more popular platforms. Also, Onveos was developed by SEO pros, so out of the box, you'll have a wide array of SEO tools and of the most SEO-friendly code bases to work with.
Platform
Pros / Cons
Resources
SEO is Amazing
Highly Customizable
Enterprise Level Capabilities
Open Source
Not Entry Level Solution
Magento Features & Overview
Magento is one of the most polarizing eCommerce platforms on the planet. In other words, people love it or hate it. The platform can be extremely SEO friendly; however, it still requires expert knowledge of the platform to leverage Magento's advanced SEO features. These advanced SEO features need to be more user-friendly to be a great eCommerce platform. Magento is significantly more scalable, customizable, and SEO-friendly than platforms like Shopify or WooCommerce, but you'll pay more too. Hosting can be extra expensive for Magento, especially for sites with thousands of products. If you build an eCommerce website on Magento, expect to hire Magento developers on staff or outsource with a Magento development company.
Platform
Pros / Cons
Resources
Open Source Platform
Customizable
Many Plug-Ins
Expensive Hosting
Can Run Slow
WooCommerce Website Features & Overview
WooCommerce is very popular for a few reasons. First and foremost, it is a shopping cart plugin for WordPress, the most popular free CMS platform on the planet. WooCommerce is an excellent choice for smaller-budget companies and start-ups, but really shouldn't be considered an enterprise-level solution. While it is possible to build a great WooCommerce site, it probably makes more sense to invest in a different platform if you're looking for enterprise-level solutions. Because it's essentially a plugin for WordPress, many of the typical benefits of WordPress apply to WooCommerce. Open-source, PHP, great plugins and development community, etc. But, for scalability, security, and frankly, to be taken seriously, you probably want to look elsewhere.
Platform
Pros / Cons
Resources
Built on Wordpress
Many Developers Available
Lower Cost Solution
Plug-In, Not Full Platform
Not Enterprise Level
eCommerce SEO Features
Important enough for its own section on this page, the eCommerce SEO features built into your website will have a huge impact on your organic traffic and overall success. Unless you want to pay for every website click using Google Ads, ranking at the top of Google for your most highly searched keywords is an absolute must.
So, what do you need to consider when choosing an eCommerce platform?
SEO Features Built Into Your eCommerce Platform
Every eCommerce platform has a set of SEO features built-in or plug-ins available to power the SEO side of your needs. For example, WooCommerce utilizes Yoast SEO and Shopify has a large selection of add-ons. Every platform also has your standard built-in features to manage title tags, meta descriptions, and your basic SEO elements. Some platforms have their own challenges – we even wrote an article about Shopify SEO issues which highlights the inability to change the URL structure, character limits on page titles, and more. The bottom line is, be sure the platform you select offers the built-in capabilities, or add-on capabilities, to implement your SEO strategy exactly the way you or your SEO agency intends.
SEO-Friendly Website Development
Now that you've selected a platform that offers the SEO features you need, there's nothing more to think about. Right? Wrong. Even though a platform can be very SEO friendly, the developer implementing your design, theme, and doing all of your coding must understand SEO. We can't stress this enough that no matter the platform you choose if your development agency doesn't understand SEO and the SEO implications of their work, your website will be set up for failure. The best way to make sure this happens is to hire one company to build your website and handle your SEO campaign. Designers, developers, and SEO should always be working hand-in-hand, side-by-side, throughout a website build.
Below is a breakdown of important eCommerce features by feature type.
Read all of the eCommerce features details below. For more information on our services visit our eCommerce website design page.
Catalog Management Features
Categories
Search and sort to easily find categories
Manage categories and sub-categories
Feature categories within navigation or on the homepage
Set categories as "active" or "inactive"
Set page URL's and SEO elements for categories
Manage categories thumbnails and images
Brands
Manage brands
Feature brands on the homepage
Set brands as "active" or "inactive"
Set page URL's and SEO elements for brands
Manage brand logos
Manage products associated with brands
Products
Search and sort to easily find products in certain categories or with specific attributes
Easily manage and edit products
Product fields include name, SKU, product details, additional details, list price, your price, weight, stock, minimum quantity order amount,  handling fee, and more.
Ability to select options such as featured, free shipping, reviews allowed, require moderation for reviews, and more
Add and manage main product image and additional product images
Microsoft Word-like editor for managing content block, such as product details
Feature products on the homepage
Set products as "active" or "inactive"
Add products to a single category or multiple categories
Select product brand
Add and manage product options and option groups
Add and manage related products
Add and manage accessories
Attach and embed YouTube videos
Manage (approve and delete) product reviews
Set product page URL and SEO elements for products
Easily manage your content pages and your navigation.
---
Content Management Capabilities
Pages
Manage content pages and create new content pages
Edit pages using a Microsoft Word-like content editor
Add images and manage uploaded image library
Image editing and cropping tool
Set page as "active" or "inactive"
Set page URL and SEO elements
Easily manage your blog posts.
---
Blog
Manage blog posts
Set blog publish date
Set post as "active" or "inactive"
Add blog summary and full blog post using Microsoft Word-like content editor
Add images and manage uploaded image library
Select blog category and author
Attached blog posts to product pages
Set post URL and SEO elements
Homepage Banners
Manage homepage banners
Set banner sort orders
Set banner URL or leave unlinked
Set banners as "active" or "inactive"
Navigation
Manage your main navigations including header, side, and footer
Add drop-down to main navigation
Manage SEO elements on links such as link title
Set links to open in the same or new window
Auto Email Messages
Manage main email template design
Set messaging for order status emails
Set messaging for thank you an email on product reviews and blog comment submissions
Manage automated email messages that go out to customers.
---
Review Management
Manage all product reviews
Set reviews to "approved" or delete reviews
Comment Management
Manage all blog comments
Set comments to "approved" or delete comments 
---
Customer Management
Customers
Search and sort to easily find customers by first name and last name
Manage customer accounts
View customer details and previous orders
View individual customers product reviews
Add private comments to a customer
Delete customer accounts
Reset customer passwords
Export customers to Excel
Export customer subscribed to email newsletter to Excel (import capabilities for 3rd party email systems)
View orders and manage order details and status.
---
Order Management Features
Orders
Search and sort to easily find orders by specific variables
Manage and updated order status
View order number and all customer information
View order information and purchase details (products, tax, shipping, addresses, etc.)
Add private notes to the order
View shipping and billing address maps
Create and manage custom order statuses
Receive email when order is placed
Export orders to Excel
Use the promotion engine to create thousands of promotion code possibilities.
---
Discount & Promotion Management
Discount Codes
Create and manage discount codes
Add discount codes to categories, brands, or products
Add discount codes that affect shipping
Set codes as "active" or "inactive"
Ability to set percentages off, amount off, or a set price
"Auto Apply" discount codes when product added to cart option
Set and manage dates code is active
Set minimum and maximum quantity requirements for discount codes
Set number of times code can be used before automatically becoming inactive
---
Reporting Features
Dashboard
Interactive administrative dashboard with charts and statistics
Ability to change dashboard statistics to reflect specific date ranges
Dashboard date-range reports include store sales by amount, store sales order volume, new customers vs. returning, top-selling products, top-selling brands, most used discount codes
Dashboard general reports (not based on the date range) include low inventory reporting, total products in-store, total categories in-store, customer count, lifetime orders, and lifetime revenue
Single Reports
Single reports, outside of the dashboard, include sales by date range, top-selling product by date range, low inventory by quantity, and new customer by date range.
---
eCommerce SEO Management Features
Dynamic Titles
Manage all dynamic title tag structures throughout the website
Configure dynamic title and META tags for categories and sub-categories
Configure dynamic title and META tags for brand pages
Configure dynamic title and META tags for product pages
Specific Titles & Meta Information
Configure site-wide default title and META tags
Configure homepage title and META tags
Set unique title, META tags and URL information for specific content pages, category, brand or product pages
---
Store Settings
Shipping Options
Set store static shipping rates based on weight, dollar amount, and zone
Set specific price or percentage of the order
Live shipping rates based on shipping address utilizing UPS, USPS, and FedEx
Set and manage shipping discount codes and promotions
Set free shipping on individual products
Set your stores origin of shipment zip code and country code
Active and deactivate shipping carriers
Manage UPS, USPS & FedEx available shipping services (ground, first-class, express, etc.)
Payment Options
Active and deactivate payment types available
Manage Authorize.net account settings
Manage PayPal account settings
Allow offline payment option
Taxes & Locations
Manage countries available
Manage tax rates for each US State or Canadian province by percentage
Activate and deactivate countries
Set shipping zones per state or province
Email Configuration
Set email server configuration and store email address
Fields include server name, server port, username, password, enable SSL and store email address
* Email will be configured during development
Administration Users
Add and delete administration logins with name, email, and password
Article By
Justin Smith
Justin Smith is the Founder & CEO at OuterBox. He's has more than 20 years of experience in SEO, paid search, eCommerce and digital marketing. His accomplishments have been referenced by many well-known publications and industry experts such as Forbes, Neil Patel, Clutch, CNBC, USA Today and more.
Want to take your eCommerce website to the next level?
For 18+ years we've been an award winning design, development and web marketing agency. Talk with us and see how we can help your business.