Rank Brain Grows More Powerful
Google released Rank Brain in 2018 and it has been automating rankings changes ever since.
So, what is RankBrain?
The simple over is RankBrain is AI and machine learning for Google's algorithm. Its goal is to understand what is happening and make changes in real-time (or close) to search results. One of the easiest examples to understand is how RankBrain can easily use CTR (click-through-rate) to change rankings and better serve a Google user.
If a keyword is searched 100 times in a day and result 3 is clicked more than results 2, giving result 3 a higher CTR, RankBrain may make the determination to move result 3 above result 2.
It's common sense right? Give the people what they want!
Throughout 2019 we expect Google to use this data and power to make changes on the fly at an even more rapid pace, meaning it is becoming even more important to stay on top of your website and search marketing in real-time.
RankBrain also looks at metrics such as bounce rate, time on site and even potentially if someone is getting to a conversion source.
We anticipate RankBrain will look closely at eCommerce websites to determine if visitors are going from search result through checkout, hence placing an order and converting. This is a huge metric for Google to use as an indicator that the websites they serve up are what their customers were looking for. So, be very conscious about boosting your conversion rate by having competitive pricing, free shipping and an all-around awesome user experience!
Note: Google users are 30% more likely to click on a result that has rich data, so use schema to boost your CTR.
---
LSI Keywords Are Important Within Content
Google is all about delivering quality content and with quality content comes including the correct words. No longer are the days of keyword stuffing, but the days of including relevant words. Latent Semantic Indexing is looking for words that are around your main topics. There are tools to help with this such as LSI graph. While this isn't the end-all be-all to SEO, it's worth considering when writing quality content, but don't try stuffing LSI keywords into your already existing copy.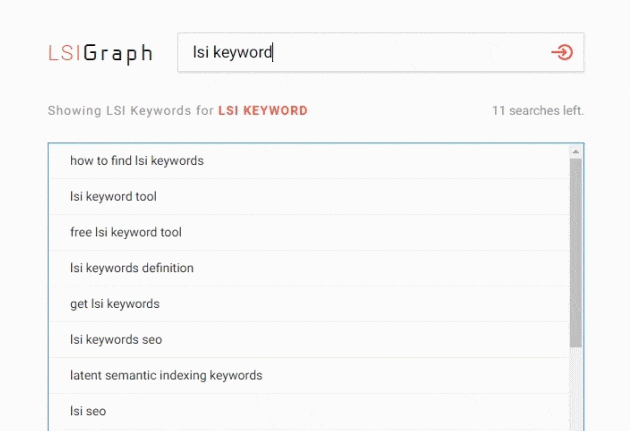 ---
Voice Search Continues Growing
With more and more devices utilizing voice search, we have a few big things to consider.
How weird will search terms get? I mean, they are pretty weird now, but long tail is going to become reallllllly long tail.
How do you rank for voice searches?
Are you in an industry where voice search matters?
1) How weird will search terms get?
Even now they say around 30% of searches on Google are unique, meaning the first time they have been searched. But, chances are, these are not terms people are using to find your products or services; they're searches about local events and news. Think about search for your daughter's softball game time, where to get tickets for a school play, or the dress code for a local charity event. When you begin to think in that way, it's understandable how 30% of search terms are new.
But with voice search becoming more and more popular, we believe that the expansion of key-phrase people "search" will expand greatly. There are two main reasons:
When searching using their voices, people say some weird stuff. Think about it: You hit the button, half remember what you were looking for and then begin talking. Who knows what you say half the time?
Ever since Google introduced recommend searches, people have been using them. This created less and less variance in what people searched. With voice search, recommended/suggested search isn't as prevalent, so variety in search is bound to rise.
2) How do you rank for voice searches?
FAQ pages are a big driver of voice search results as people search in question form more often with their voice than they do when typing. Many users are So even though they may be looking for a time a restaurant closes, they'll just search the restaurant name because they know the hours will appear. In voice search, though, it's different. A user will simply say, "What time does X restaurant close tonight?" If you're an eCommerce business or service business, it's imperative to consider what main questions your customers have about your industry and begin to develop content pages, blog posts and articles to answer these questions.
3) Does voice search matter in your industry?
The adoption of new technology varies greatly across industries. As an example, we still see websites in certain industries have less than 25% of their traffic from mobile, while others may be at 75%. So its important to consider who your audience is and what they are doing in their moment of need for your products and services. You know your business best, so put yourself in your customers' shoes. Would your user use voice search, and how would they use it, if they did?
---
SEO's Focus On Improving EAT "Scores"
On July 20, 2018, Google released its new general guidelines, topping out at 164 pages. It's recommend reading for anyone serious about SEO. This came right around the time the Google EAT update was released (Aug. 1), which saw the biggest rank movements since 2012.
EAT stands for:
Expertise.
Authority.
Trustworthiness.
The updated affects healthcare website mainly, with eCommerce website being the second hardest hit (around 15-20% of all eCommerce sites were majorly affected).
Throughout 2019 it'll be a trend to follow the new guidelines and make updates to your website per the document that Google released. With a huge emphasis on authority, identifying authority signals and implementing those into your website will yield big gains. Just remember: You can always try to scam the system, but becoming an actual authority in your industry (delivering awesome products, services and content) will always win out in the long run.
---
Links Are Important, and So Are Brand Mentions
Brands mentions are now part of Google's algorithm and are becoming a big part of SEO campaigns. While it's understood that links are probably more value than a brand mention, Google is tracking how many times your company name is mentioned online. It's as important as ever to monitor your link profile.
Using some common sense, it makes sense that Google isn't only looking for links but also looking for people talking about brands on social media and other outlets.
---
Video Is Big and Getting Bigger
Adding video to your content pages, product pages and any relevant pages within your website can have huge payoffs. As referenced above, RankBrain looks at how long someone stays on a page, and adding video can be a big way to keep people on the site even longer.
Google also owns YouTube, so serving up content on this platform would seem to be a preferred method.
Video can also be used to drastically increase your conversion rate, so it's important to add video to your main landing pages, articles and top-visited products. Again, converting someone into a lead, contact or customer could be a huge ranking signal to Google while immediately boosting your revenue.
---